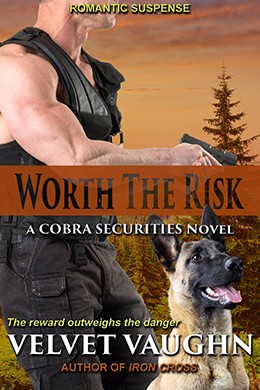 Title:
Worth the Risk
Series:
COBRA Securities #

21
Release Date:
02/22/21
Genre:
Romantic Suspense
ISBN13:
978-1-7357807-4-0
Veterinarian Vanessa Lacroix has devoted her life to saving abused and mistreated animals. When a risky humanitarian mission goes awry, and she stumbles upon a disturbing operation, she's the one in need of rescue.

Quinn Billings' burgeoning dog training business inside the COBRA Securities compound keeps him extremely busy. When Vanessa's dad calls in a favor, Quinn takes off to find her with his dog Kilo in tow.

Kilo leads Quinn to Vanessa, but they soon discover a plot more sinister than imagined and far more deadly. On the run from killers, they rush to expose the crimes before it's too late.
Buy the Book:

, 

Also in this series: