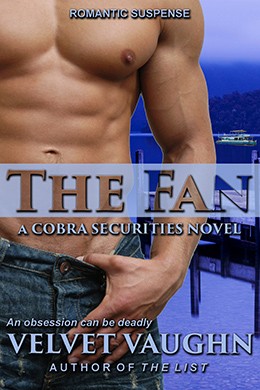 Title:
The Fan
Series:
COBRA Securities #

2
Genre:
Romantic Suspense
A demanding Hollywood career, a failed marriage to an A-list celebrity and a possible stalker force starlet Jade LaRossa to flee the spotlight in California for a long vacation in her college hometown. Finally able to relax, she discovers that she loves gardening, suspense novels and ice cream–probably not the best thing for an actress to learn, but it doesn't stop her from buying an extra gallon anyway. The last thing she planned on doing during her hiatus was fall in love with a single father and his daughter.

 

Healed from the injuries that ended his military career, former Navy SEAL Logan Bradley is part owner of a booming private security company. His life is turned upside down when a man knocks on his doorstep holding a diminutive three-year old beauty–Logan's daughter. Rocked by the discovery, he shakes off his fear and embraces fatherhood. When a stunning redhead moves in next door, she threatens his carefully controlled life…and his heart.

 

In order to escape the stalker, Jade transforms herself from movie star to Midwestern schoolteacher. When Logan discovers her duplicity, he pushes her away despite his overwhelming feelings. But when the stalker finds her and bodies start to pile up, he puts his life on the line to protect her. Will it be enough to keep her safe from The Fan?
Buy the Book:

, 

Also in this series: