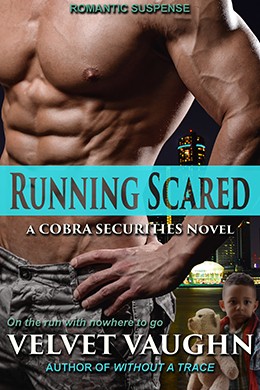 Title:
Running Scared
Series:
COBRA Securities #

19
Release Date:
May 2020
Genre:
Romantic Suspense
Declan Elliot has fully recovered following serious injuries obtained while protecting Jamal West from danger. The ink isn't yet dry on the contract for Declan to become COBRA Securities' newest agent when Jamal's life is threatened again. Declan drops everything to rush to his rescue.

Kenzie Bryant reported her boss for harassment and was unceremoniously fired from her job as an editor. On the same day she was canned, she learned her beloved aunt had died. As Kenzie is clearing out her aunt's condo, a ruthless gang sets their sights on the young boy in the unit next door and Kenzie is caught in their crosshairs.

On the run for their lives, Declan and Kenzie fall in love while teaming up to evade and outwit the killers. As they race to discover why the gang is targeting a seven-year-old boy, the threats become increasingly violent and deadly. Time is running out to uncover the motive and neutralize the threat before it's too late.
Buy the Book:

, 

Also in this series: