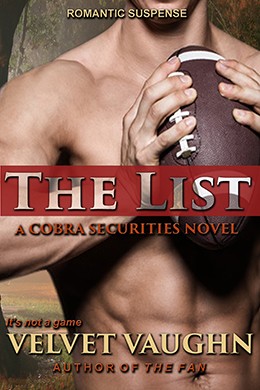 Title:
The List
Series:
COBRA Securities #

1
Genre:
Romantic Suspense
What started out as a harmless game between friends has turned deadly real. Fourteen men are dead, all from apparent accidents. The only thing tying them together is their names on a list compiled by three teenage girls ten years ago. Only one man remains alive, but time is running out…

 

Jacqueline Sera forgot all about the lists she created with her friends, until the names keep popping up in the obituaries. Suddenly their fun game has morphed into a chilling nightmare. When the authorities refuse to believe her outrageous claims of a serial killer, she turns to the one man the killer hasn't eliminated, the man she has always loved.

 

Matt Dianetti is skeptical of Jacqueline's claims but can't deny the disturbing coincidences. When incidents mount, and with the killer closing in, they must race to stop an unknown enemy who wants to permanently cross Matt's name off The List.
Buy the Book:

, 

Also in this series: