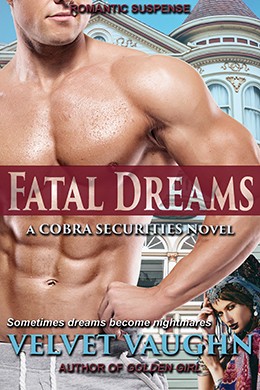 Title:
Fatal Dreams
Series:
COBRA Securities #

17
Genre:
Romantic Suspense
Romani blood flows through Esmerelda Jovanovich's veins, but she's never possessed any psychic abilities—until recently. Strange visions are plaguing her sleep, and they're as unsettling as they are prophetic. Her dreams are literally becoming nightmares.

After a chance encounter along the side of the road, COBRA Securities Agent Ethan Addison hasn't been able to chase the exotic Esme from his thoughts. When he runs into her again and learns of the danger she's facing, he'll stop at nothing to protect her.

Ethan and Esme's chemistry is instant, scorching and in jeopardy when the body count rises and the killer targets Esme. They team up to unravel her dreams before it's too late, but are they the work of evil spirits or something conjured in the disturbed mind of a twisted psychopath?
Buy the Book:

, 

Also in this series: