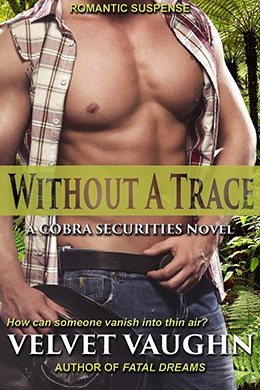 Title:
Without a Trace
Series:
COBRA Securities #

18
Genre:
Romantic Suspense
As an emergency room physician, Dr. Amelia Howell has had little time during her career to give back to the less fortunate. Before embarking on a new job, she volunteers for a humanitarian trip with Doctors International. Her mission sends her to the rainforest of Santigo, a small country struggling with poverty and rampant with corruption. When she inadvertently witnesses a crime, she becomes a target of very dangerous people and is abducted.

Injuries sustained in a bomb blast have sidelined COBRA Securities Agent Wyatt Hollister indefinitely. At loose ends, he decides on a spur of the moment trip to visit Amelia in Santigo. But once he arrives, he walks into a nightmare and discovers Amelia is missing.

Against all odds, Wyatt finds Amelia and their mutual attraction ignites into a flame of passion. But their budding love...and their lives are at stake while on the run from a deadly cartel attempting to make them both disappear Without a Trace.
Buy the Book:

, 

Also in this series: