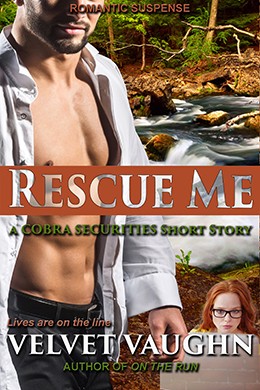 Title:
Rescue Me
Series:
COBRA Securities #

25.5
Genre:
Romantic Suspense
Following a date with an interesting man, COBRA Securities computer expert Sloan Lorince wakes up to discover she's being held captive in a strange place with no memory of what happened.

Undercover FBI Agent John Cruz has infiltrated a rogue terrorist group plotting a major uprising. When the leader brings Sloan into their lair, John vows to protect her, even if it means blowing his cover.

With Sloan's help, John discovers the plot is bigger and more dangerous than he imagined. With their lives on the line, they race to stop a madman before it's too late.
Buy the Book:

, 

Also in this series: