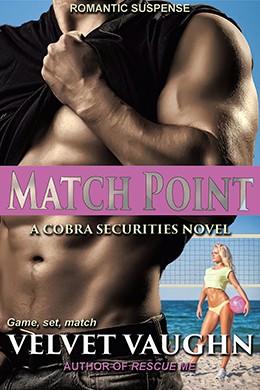 Title:
Match Point
Series:
COBRA Securities #

26
Release Date:
3/25/2023
Genre:
Romantic Suspense
ISBN13:
979-8-9862309-6-2
Game, set, match.

Willa Ashford was basking in the glory of defending her gold medal in beach volleyball when her world came crashing down after her partner's death. Two years later, the USA is on the verge of missing the next Olympics. Willa comes out of retirement to win an important tournament and secure the spot for the USA, but someone wants to ensure she doesn't succeed.

COBRA Securities agent Colt Fontaine has been tasked with keeping Willa safe as she and her new partner train for the event. What started as harmless warnings suddenly escalates. While Colt battles to stop an unknown entity from harming Willa, passion ignites, and they fall in love.

Soon, the threats turn violent and the body count rises. Betrayal hits close to home. Can Colt save Willa before the game reaches match point?
Buy the Book:

, 

Also in this series: